"There is neither man or woman in this church who is not on a mission. That mission will last as long as they live, and it is to do good, to promote righteousness, to teach the principles of truth, and to prevail upon themselves and everybody around them to live those principles that they may obtain eternal life."
-President Brigham Young-
Mission Leadership Council - Back- Elder Tinei, Elder Tu'ihalangingie, Elder Cunningham, Elder Hilton, Elder Dutson, Elder Cuthbertson, Elder Kaka, Elder Kerr, Elder Pelo, Elder Collins, Elder Evans, Elder Lawson, Elder Hunt, Elder Raston, Elder Christensen and Elder Vimahi. Front- Sister Toutai, Sister Rose, Sister Sudweeks, Sister Milne, Sister Kennedy, Sister Morris and Sister Unsicker.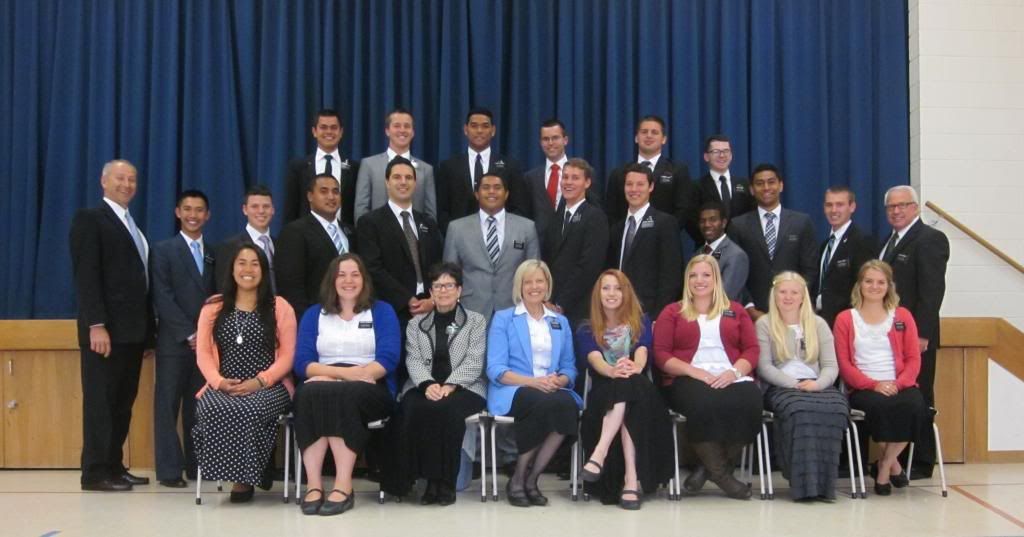 Hutt Valley Zone Conference
Wellington Zone Conference - Elder Child, Elder Malarde, Elder Christensen, Elder Vimahi,
Elder Harris and Elder Vagai.
Elder Wenke, Elder Nordlin, Elder Loveless, Elder Pasa, Elder Nevitt, Elder Faaifoaso, Elder Nyfeler and ElderTalataina.
Elder Brown, Elder Tu'ihalangingie, Elder Kaka, Sister and Elder Roberts, Elder Zollinger, Elder Keller and Elder 'Otuhouma.
Elder Pelo and Elder Cuthbertson
Sister Training Leaders
Sister Training Leaders all from the same intake - how did that happen? And all blonde - they must have planned this.
Wellington Harbour
Sister Key, Sister Watene-Zelezniak, Sister Sturzenegger, Sister Kezerian, Sister Fetu'u, Sister Sudweeks and Sister Faana.
Saying goodbye to Elder and Sister Webb (No photo but we also thank Elder and Sister Hayward, Elder and Sister Roberts, and Elder and Sister Lewis as they return home this month!)
Elder Dutson and Elder Pelo in action.
Elder Hamilton and Elder Salyer keeping everyone in the community fit.
Elder Rigby and Elder Lawson talking with everyone. Thanks Elders!
The missionaries in Hawkes Bay participated in the Prospective Missionary Training and went door knocking, street contacting and provided a question and answer session for the youth.