"From our testimony of the truth and importance of the restored gospel, we understand the value of what we have been given. From our love of God and our fellowmen, we acquire our desire to share that great gift with everyone. The intensity of our desire to share the gospel is a great indicator of the extent of our personal conversion. The most effective missionaries, member and full-time, always act out of love.
I learned this lesson as a young man. I was assigned to visit a less-active member, a successful professional many years older than I. Looking back on my actions, I realize that I had very little loving concern for the man I visited. I acted out of duty, with a desire to report 100 percent on my home teaching. One evening, close to the end of a month, I phoned to ask if my companion and I could come right over and visit him. His chastening reply taught me an unforgettable lesson.
"No, I don't believe I want you to come over this evening," he said. "I'm tired. I've already dressed for bed. I am reading, and I am just not willing to be interrupted so that you can report 100 percent on your home teaching this month." That reply still stings me because I knew he had sensed my selfish motivation.
I hope no person we approach with an invitation to hear the message of the restored gospel feels that we are acting out of any reason other than a genuine love for them and an unselfish desire to share something we know to be precious.
If we lack this love for others, we should pray for it. The prophet Mormon's writings about "The pure love of Christ" teach us to "pray unto the Father with all the energy of heart that ye may be filled with this love, which he hath bestowed upon all who are true followers of his Son, Jesus Christ"(Moro. 7:47-48).
-Elder Dallin H. Oaks-
Front: Elder and Sister F. Michael Watson, Elder and Sister Dallin H. Oaks, Sister and President Michael L. Kezerian
Missionaries from the Hutt, Porrirua and Wellington Stakes.
Greymouth District- Elder P. Cook, Elder Uasila'a, Elder Norford, Elder Otuhouma, Elder Hobby and Elder Ross. Front: Elder and Sister Turner, Sister and President Kezerian.
President Kezerian with Elder Atkinson and Elder Barnes - Zone Leaders in Nelson Zone.
Sister Dowe, Sister Kezerian and Sister Neilsen on a windy day in Nelson.
Elder Kendall, Elder Pasa, Elder Tairi, Elder Ebel, Elder Fahina and Elder Lelenoa.
Elder Oliva, Elder Terry, Elder Neria and Elder and Sister Hirschi.
We're proud of you Elders!

Taranaki District with Brother and Sister Bolton.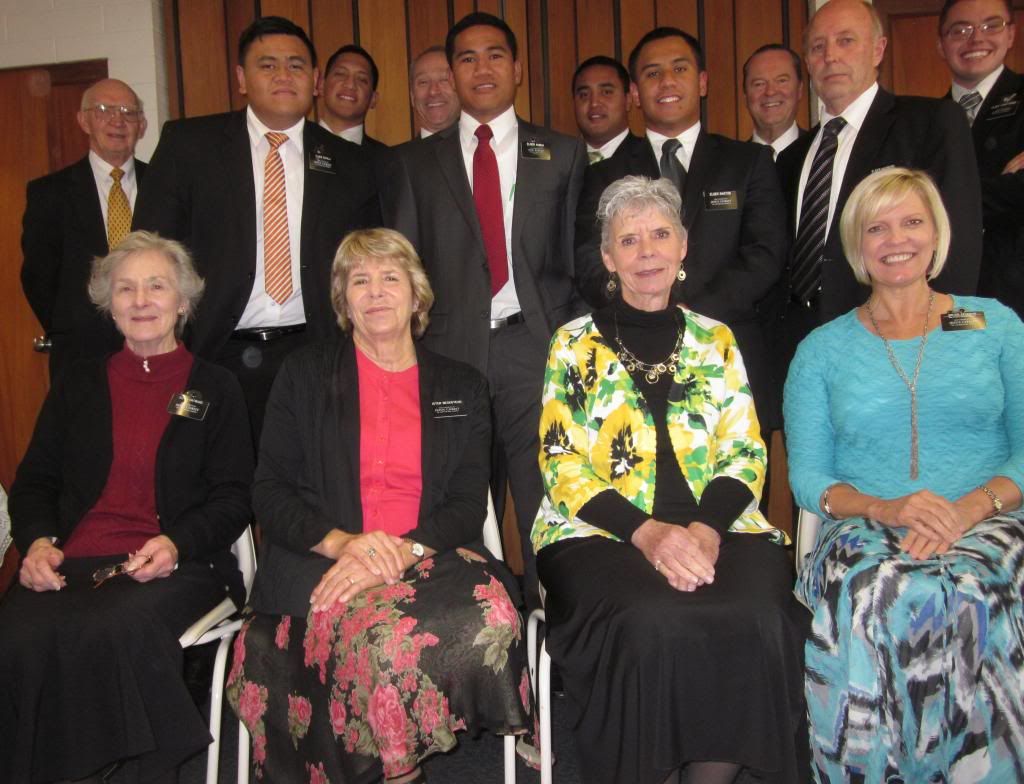 Palmerston District-Back: Elder Beckstead, Elder Sovala, Elder Kaka, President Kezerian, Elder Aumua, Elder Tinei, Elder Raston, Brother Bolton, Elder Hayward, Elder Armstrong. Front: Sister Hayward, Sister Beckstead, Sister Bolton and Sister Kezerian.
Following a baptism in Cannon's Creek.
Sister Ronne Wilkensen and Sister Bolton. Sister Wilkensen is going to be celebrating her 90th birthday. She was blessed by Matthew Cowley.
Saying Good-bye to Brother and Sister Bolton, our dear friends. President Kezerian had the privilege of baptizing the Bolton Family in California when he served a mission as a young man. They have had 3 of their children serve missions and one grandson so far.
The blessing of missionary service in Alexandra. Elder Dorius and Elder Christensen have received food and well wishes. The first church service will be held in the new facility in Alexandra on May 5th. Keep up the good work Elders!!
We love to hear missionaries sing!! It brings the spirit so powerfully!