"Teach the missionaries to be true disciples, to be exactly obedient, to be a learner, to exercise faith, to work tirelessly and to expect miracles."
-Elder Kevin W. Pearson-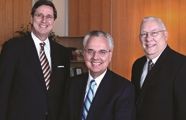 During the Pacific Area Interim Mission Presidents Seminar we received counsel from our Pacific Area Presidency, Elder Kevin W. Pearson, Elder James J. Hamula and Elder F. Michael Watson.
For those who are from Sydney, Australia here is a little bit of home. What a beautiful city.
President Leota (Samoa Apia Mission), President Lekias (Auckland New Zealand Mission) and President Kezerian.